Select by weight and Map and Performance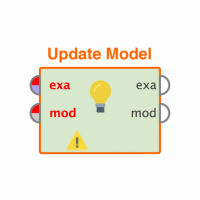 m_gholami1991
Member
Posts: 17
Contributor I
edited August 2019
in Help
Hi to all
I have three problems with the Rapidminer and I hope you can guide you.
I have a data set labeled by a specialist and I want to obtain it's accuracy. In the first step, the label column of the data is removed and  based on 3 features(Select by Weight Operator used), the k-means clustering with 3 cluster has been applied to it. On the other hand, the same dataset with labeled column as the test dataset is implemented in the model. I have three problem in this senario.
After applying the K-means clustering on the dataset, the clustered dataset and the test dataset must be given to the performance operator, But since the set role operator has been used to specify the data type for the clustered dataset tag label, I do not know how to set up the connection.
I have a Select by weight Operator in my Design that it's weight relation parameter varies from 3 to 5 repeatedly. And I do not want to do this manually.
I have Map Operator in my design too. When K-Means do clustering on my dataset, This operator considers 6 modes of 3 levels of labels (one, two, three) of test data for 3 clusters to select the best mode that displays the highest accuracy in the product.
Tagged: