RapidMiner 9.7 is Now Available
Lots of amazing new improvements including true version control! Learn more about what's new here.
Difficulties with macro value in scientific notation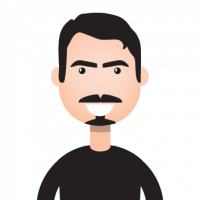 lionelderkrikor
Moderator, RapidMiner Certified Analyst, Member
Posts: 1,068
&nbsp
&nbsp

Unicorn
Hi all,
RapidMiner raises an error when a macro value is in scientific notation: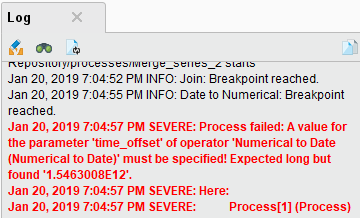 The macro value is well recorded ...: 
...and is used in an operator : 
Is there a solution / workaround to this ?
Thanks for your explanations...
Regards,
Lionel
NB : The process : 
<?xml version="1.0" encoding="UTF-8"?><process version="9.2.000-SNAPSHOT">
  <context>
    <input/>
    <output/>
    <macros/>
  </context>
  <operator activated="true" class="process" compatibility="9.2.000-SNAPSHOT" expanded="true" name="Process">
    <parameter key="logverbosity" value="init"/>
    <parameter key="random_seed" value="2001"/>
    <parameter key="send_mail" value="never"/>
    <parameter key="notification_email" value=""/>
    <parameter key="process_duration_for_mail" value="30"/>
    <parameter key="encoding" value="SYSTEM"/>
    <process expanded="true">
      <operator activated="true" class="operator_toolbox:create_exampleset" compatibility="1.7.000" expanded="true" height="68" name="Create ExampleSet" width="90" x="45" y="34">
        <parameter key="generator_type" value="date_series"/>
        <parameter key="number_of_examples" value="100"/>
        <parameter key="use_stepsize" value="true"/>
        <list key="function_descriptions"/>
        <parameter key="add_id_attribute" value="false"/>
        <list key="numeric_series_configuration"/>
        <list key="date_series_configuration"/>
        <list key="date_series_configuration (interval)">
          <parameter key="date" value="2019-01-01 00:00:00.1.hour"/>
        </list>
        <parameter key="date_format" value="yyyy-MM-dd HH:mm:ss"/>
        <parameter key="column_separator" value=","/>
        <parameter key="parse_all_as_nominal" value="false"/>
        <parameter key="decimal_point_character" value="."/>
        <parameter key="trim_attribute_names" value="true"/>
      </operator>
      <operator activated="true" class="generate_id" compatibility="9.2.000-SNAPSHOT" expanded="true" height="82" name="Generate ID" width="90" x="179" y="34">
        <parameter key="create_nominal_ids" value="false"/>
        <parameter key="offset" value="0"/>
      </operator>
      <operator activated="true" class="generate_data" compatibility="9.2.000-SNAPSHOT" expanded="true" height="68" name="Generate Data" width="90" x="45" y="136">
        <parameter key="target_function" value="random"/>
        <parameter key="number_examples" value="100"/>
        <parameter key="number_of_attributes" value="2"/>
        <parameter key="attributes_lower_bound" value="-10.0"/>
        <parameter key="attributes_upper_bound" value="10.0"/>
        <parameter key="gaussian_standard_deviation" value="10.0"/>
        <parameter key="largest_radius" value="10.0"/>
        <parameter key="use_local_random_seed" value="false"/>
        <parameter key="local_random_seed" value="1992"/>
        <parameter key="datamanagement" value="double_array"/>
        <parameter key="data_management" value="auto"/>
      </operator>
      <operator activated="true" class="generate_id" compatibility="9.2.000-SNAPSHOT" expanded="true" height="82" name="Generate ID (2)" width="90" x="179" y="136">
        <parameter key="create_nominal_ids" value="false"/>
        <parameter key="offset" value="0"/>
      </operator>
      <operator activated="true" breakpoints="after" class="concurrency:join" compatibility="9.2.000-SNAPSHOT" expanded="true" height="82" name="Join" width="90" x="313" y="85">
        <parameter key="remove_double_attributes" value="true"/>
        <parameter key="join_type" value="inner"/>
        <parameter key="use_id_attribute_as_key" value="true"/>
        <list key="key_attributes"/>
        <parameter key="keep_both_join_attributes" value="false"/>
      </operator>
      <operator activated="true" class="extract_macro" compatibility="9.2.000-SNAPSHOT" expanded="true" height="68" name="Extract Macro" width="90" x="447" y="85">
        <parameter key="macro" value="dateOffset"/>
        <parameter key="macro_type" value="data_value"/>
        <parameter key="statistics" value="average"/>
        <parameter key="attribute_name" value="date"/>
        <parameter key="example_index" value="1"/>
        <list key="additional_macros"/>
      </operator>
      <operator activated="true" class="generate_macro" compatibility="9.2.000-SNAPSHOT" expanded="true" height="82" name="Generate Macro" width="90" x="581" y="85">
        <list key="function_descriptions">
          <parameter key="dateDiffOffset" value="date_diff(date_parse(&quot;01/01/1970&quot;),date_parse(%{dateOffset}))"/>
        </list>
      </operator>
      <operator activated="true" breakpoints="after" class="date_to_numerical" compatibility="9.2.000-SNAPSHOT" expanded="true" height="82" name="Date to Numerical" width="90" x="715" y="85">
        <parameter key="attribute_name" value="date"/>
        <parameter key="time_unit" value="day"/>
        <parameter key="millisecond_relative_to" value="second"/>
        <parameter key="second_relative_to" value="minute"/>
        <parameter key="minute_relative_to" value="hour"/>
        <parameter key="hour_relative_to" value="day"/>
        <parameter key="day_relative_to" value="month"/>
        <parameter key="week_relative_to" value="year"/>
        <parameter key="month_relative_to" value="year"/>
        <parameter key="quarter_relative_to" value="year"/>
        <parameter key="half_year_relative_to" value="year"/>
        <parameter key="year_relative_to" value="era"/>
        <parameter key="keep_old_attribute" value="false"/>
      </operator>
      <operator activated="true" class="aggregate" compatibility="9.2.000-SNAPSHOT" expanded="true" height="82" name="Aggregate" width="90" x="849" y="34">
        <parameter key="use_default_aggregation" value="false"/>
        <parameter key="attribute_filter_type" value="all"/>
        <parameter key="attribute" value=""/>
        <parameter key="attributes" value=""/>
        <parameter key="use_except_expression" value="false"/>
        <parameter key="value_type" value="attribute_value"/>
        <parameter key="use_value_type_exception" value="false"/>
        <parameter key="except_value_type" value="time"/>
        <parameter key="block_type" value="attribute_block"/>
        <parameter key="use_block_type_exception" value="false"/>
        <parameter key="except_block_type" value="value_matrix_row_start"/>
        <parameter key="invert_selection" value="false"/>
        <parameter key="include_special_attributes" value="false"/>
        <parameter key="default_aggregation_function" value="average"/>
        <list key="aggregation_attributes">
          <parameter key="att1" value="average"/>
        </list>
        <parameter key="group_by_attributes" value="date"/>
        <parameter key="count_all_combinations" value="false"/>
        <parameter key="only_distinct" value="false"/>
        <parameter key="ignore_missings" value="true"/>
      </operator>
      <operator activated="true" class="numerical_to_date" compatibility="9.2.000-SNAPSHOT" expanded="true" height="82" name="Numerical to Date" width="90" x="1117" y="34">
        <parameter key="attribute_name" value="date"/>
        <parameter key="keep_old_attribute" value="false"/>
        <parameter key="time_offset" value="%{dateDiffOffset}"/>
      </operator>
      <operator activated="true" class="concurrency:join" compatibility="9.2.000-SNAPSHOT" expanded="true" height="82" name="Join (2)" width="90" x="1275" y="85">
        <parameter key="remove_double_attributes" value="true"/>
        <parameter key="join_type" value="inner"/>
        <parameter key="use_id_attribute_as_key" value="false"/>
        <list key="key_attributes">
          <parameter key="date" value="date"/>
        </list>
        <parameter key="keep_both_join_attributes" value="false"/>
      </operator>
      <operator activated="true" class="set_role" compatibility="9.2.000-SNAPSHOT" expanded="true" height="82" name="Set Role" width="90" x="1448" y="85">
        <parameter key="attribute_name" value="date"/>
        <parameter key="target_role" value="id"/>
        <list key="set_additional_roles"/>
      </operator>
      <connect from_op="Create ExampleSet" from_port="output" to_op="Generate ID" to_port="example set input"/>
      <connect from_op="Generate ID" from_port="example set output" to_op="Join" to_port="left"/>
      <connect from_op="Generate Data" from_port="output" to_op="Generate ID (2)" to_port="example set input"/>
      <connect from_op="Generate ID (2)" from_port="example set output" to_op="Join" to_port="right"/>
      <connect from_op="Join" from_port="join" to_op="Extract Macro" to_port="example set"/>
      <connect from_op="Extract Macro" from_port="example set" to_op="Generate Macro" to_port="through 1"/>
      <connect from_op="Generate Macro" from_port="through 1" to_op="Date to Numerical" to_port="example set input"/>
      <connect from_op="Date to Numerical" from_port="example set output" to_op="Aggregate" to_port="example set input"/>
      <connect from_op="Date to Numerical" from_port="original" to_op="Join (2)" to_port="left"/>
      <connect from_op="Aggregate" from_port="example set output" to_op="Numerical to Date" to_port="example set input"/>
      <connect from_op="Numerical to Date" from_port="example set output" to_op="Join (2)" to_port="right"/>
      <connect from_op="Join (2)" from_port="join" to_op="Set Role" to_port="example set input"/>
      <connect from_op="Set Role" from_port="example set output" to_port="result 1"/>
      <portSpacing port="source_input 1" spacing="0"/>
      <portSpacing port="sink_result 1" spacing="0"/>
      <portSpacing port="sink_result 2" spacing="0"/>
    </process>
  </operator>
</process>