Multiple Labels for Binary Classification Problems in one model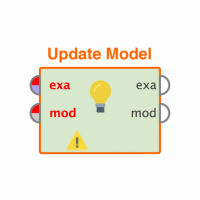 rodienne_zammit
Member
Posts: 3
Contributor I
edited February 2019
in Help
Hello,
sgenzer 
I read them to the end!
Current approach: Separate models for different binary labels
I have prepared a decision tree model which correctly predicts a binary label for product A when Product A is used as the label.
For product B, I re-run the process to train a similar model when B is the label.
Then I would need to train another model to predict product C, and use C as a label. This goes on as in reality I have more products.
Desired approach: 
One model to predict different binary labels
Is there a way I can combine this into
one model
so that the model can tell me the binary predictions (true/false) for Product A, B and C in one go? This would be ideal when applying the model on new data so that I don't need to run all separate product models. 
I tried to use "loop label" however this loops on the labels to create different models, and I did not find a way of how to use the models created to apply them to new data. I did not find a way how I could loop label on new data to apply "loop model" (this deosn't exist).
Maybe I could achieve this by combining the different binary classification values into one value? 
Appreciate feedback on how it is best to implement this problem.
Thank you!