🎉 🎉 RAPIDMINER 9.10 IS OUT!!! 🎉🎉
Download the latest version helping analytics teams accelerate time-to-value for streaming and IIOT use cases.
RapidMiner pierde el formato de la pantalla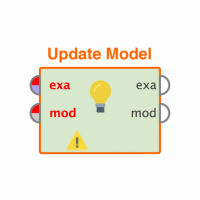 PabloVeraTiznado
Member
Posts: 1
Newbie
Buenas tardes. Mi nombre es Pablo Vera Tiznado. Soy de Santiago de Chile y mi problema es que instalé la versión 9.10.000 de RapidMiner para Windows de 64 bits y al mover el mouse sobre la pantalla, en algún momento de la operación RapidMiner se vuelve loco y la pantalla se desconfigura totalmente. Los paneles cambian de posición, se montan uno sobre otro, se mueven por toda la pantalla y finalmente, se hace imposible trabajar. He reingresado en varias veces y el problema se mantiene. Como dato, a la aplicación ingreso como Administrador.

No sé si a otras personas les ha ocurrido un error similar, para que me indiquen cómo pudieron solucionarlo.

Saludos y muchas gracias.
Tagged: