🦉&nbsp🎤&nbsp&nbsp&nbspRapidMiner Wisdom 2020 - CALL FOR SPEAKERS&nbsp&nbsp&nbsp🦉&nbsp🎤
We are inviting all community members to submit proposals to speak at Wisdom 2020 in Boston.
Whether it's a cool RapidMiner trick or a use case implementation, we want to see what you have.
Form link is below and deadline for submissions is November 15. See you in Boston!
File source as input for custom operator in Rapidminer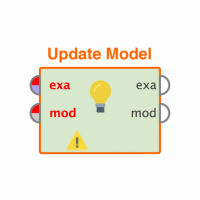 kamal_pradhan
Member
Posts: 2
Contributor I
edited November 2018
in Help
i am trying to build a custom operator using the extension template available in github. i want my operator take file as an input and give example set as output. i am also using read document operator for getting the file input and using the output as an input for my operator. i have used the following code to achieve
        FileObject fileSet = exampleSetInput.getData(FileObject.class);

but i get the following error when i run the operator
SEVERE: Process failed: Wrong input of type 'Document' at port 'example set'. Expected type 'File'. 
can anybody help on how to use file source in input port of the operator ?
Tagged: