RapidMiner 9.7 is Now Available
Lots of amazing new improvements including true version control! Learn more about what's new here.
[SOLVED] Unexpected output for linear regression operator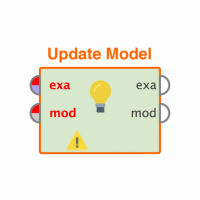 dysprosium
Member
Posts: 7
Contributor I
edited August 2019
in Help
I'm quite new to Rapid Miner and trying the linear regression for the first time. I'm applying the Linear Regression operator on a training data set, then outputting a regression model which is input to the Apply Model operator. Then I will apply the Model to an unlabelled data set.
There is one special attribute (label) and 3 regular attributes in the training data set. It has only 7 examples at the moment (easier for me to see what's happening). The attributes are all integers.
In the attribute weights output from the linear regression, I'm expecting all of the 3 regular attributes to have a weight greater than zero. However, when I run the process only one attribute has a weight greater than 0. Its weight is 0.268. The other two attributes have a weight of 0. It seems as if the linear regression operator is ignoring those two attributes. Why?
The reason I expect all of the weights from the Linear Regression to be non-zero is because when I input
exactly the same training set
to the Vector Linear Regression operator, I get either positive or negative weights for all three regular attributes.

<process version="6.0.002">
  <context>
    <input/>
    <output/>
    <macros/>
  </context>
  <operator activated="true" class="process" compatibility="6.0.002" expanded="true" name="Process">
    <process expanded="true">
      <operator activated="true" breakpoints="after" class="retrieve" compatibility="6.0.002" expanded="true" height="60" name="Retrieve regression data Oct 13 training set 1 special (label) attribute 3 regular attributes" width="90" x="112" y="75">
        <parameter key="repository_entry" value="../data/regression data Oct 13 training set 1 special (label) attribute 3 regular attributes"/>
      </operator>
      <operator activated="true" breakpoints="after" class="linear_regression" compatibility="6.0.002" expanded="true" height="94" name="Linear Regression" width="90" x="313" y="30"/>
      <operator activated="true" breakpoints="after" class="retrieve" compatibility="6.0.002" expanded="true" height="60" name="Retrieve regression data Oct 13 UNLABELLED set 1 special (label) attribute 3 regular attributes" width="90" x="112" y="255">
        <parameter key="repository_entry" value="../data/regression data Oct 13 UNLABELLED set 1 special (label) attribute 3 regular attributes"/>
      </operator>
      <operator activated="true" breakpoints="after" class="apply_model" compatibility="6.0.002" expanded="true" height="76" name="Apply Model" width="90" x="514" y="165">
        <list key="application_parameters"/>
      </operator>
      <connect from_op="Retrieve regression data Oct 13 training set 1 special (label) attribute 3 regular attributes" from_port="output" to_op="Linear Regression" to_port="training set"/>
      <connect from_op="Linear Regression" from_port="model" to_op="Apply Model" to_port="model"/>
      <connect from_op="Linear Regression" from_port="weights" to_port="result 2"/>
      <connect from_op="Retrieve regression data Oct 13 UNLABELLED set 1 special (label) attribute 3 regular attributes" from_port="output" to_op="Apply Model" to_port="unlabelled data"/>
      <connect from_op="Apply Model" from_port="labelled data" to_port="result 1"/>
      <portSpacing port="source_input 1" spacing="0"/>
      <portSpacing port="sink_result 1" spacing="0"/>
      <portSpacing port="sink_result 2" spacing="0"/>
      <portSpacing port="sink_result 3" spacing="0"/>
    </process>
  </operator>
</process>

Tagged: