🎉 🎉 RAPIDMINER 9.10 IS OUT!!! 🎉🎉
Download the latest version helping analytics teams accelerate time-to-value for streaming and IIOT use cases.
Simulator Error - Cannot map index of nominal attribute to nominal value: index -1 is out of bounds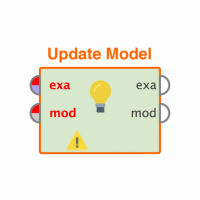 michaelgloven
RapidMiner Certified Analyst, Member
Posts: 46
&nbsp

Guru
I get the attached error when executing the simulator operator, and was curious what I could do to troubleshoot. I've traced the data and all dependent (prior) processes execute ok. The process consumes 10,000 examples and about 47 attributes. Any guidance is appreciated.
<?xml version="1.0" encoding="UTF-8"?><process version="8.1.001">
<context>
<input/>
<output/>
<macros/>
</context>
<operator activated="true" class="process" compatibility="8.1.001" expanded="true" name="Process">
<process expanded="true">
<operator activated="true" class="retrieve" compatibility="8.1.001" expanded="true" height="68" name="Feature Weights" width="90" x="179" y="391">
<parameter key="repository_entry" value="../03 - Select Features/Weights/TPD3 Weights"/>
</operator>
<operator activated="true" class="retrieve" compatibility="8.1.001" expanded="true" height="68" name="Model" width="90" x="179" y="34">
<parameter key="repository_entry" value="../06 - Learn Models/TPD3 - Bayes"/>
</operator>
<operator activated="false" class="operator_toolbox:smote" compatibility="0.9.000" expanded="true" height="82" name="Smote Upsampling" width="90" x="447" y="136">
<parameter key="Equalize Classes" value="false"/>
</operator>
<operator activated="true" class="retrieve" compatibility="8.1.001" expanded="true" height="68" name="Data Set" width="90" x="45" y="238">
<parameter key="repository_entry" value="../02 - Data/Prediction - MIPC1 - TPD3"/>
</operator>
<operator activated="true" class="set_role" compatibility="8.1.001" expanded="true" height="82" name="Target" width="90" x="179" y="238">
<parameter key="attribute_name" value="Third Party Damage"/>
<parameter key="target_role" value="label"/>
<list key="set_additional_roles"/>
</operator>
<operator activated="true" class="select_by_weights" compatibility="8.1.001" expanded="true" height="103" name="Select by Weights (2)" width="90" x="313" y="238"/>
<operator activated="true" automodel="EXPORTED" class="multiply" compatibility="8.1.001" expanded="true" height="103" name="Multiply (3)" width="90" x="581" y="238"/>
<operator activated="true" class="split_data" compatibility="8.1.001" expanded="true" height="103" name="Split Data (3)" width="90" x="715" y="187">
<enumeration key="partitions">
<parameter key="ratio" value="0.8"/>
<parameter key="ratio" value="0.2"/>
</enumeration>
<parameter key="sampling_type" value="stratified sampling"/>
<parameter key="use_local_random_seed" value="true"/>
</operator>
<operator activated="true" automodel="EXPORTED" class="model_simulator:model_simulator" compatibility="8.1.001" expanded="true" height="103" name="TPD Simulator" width="90" x="849" y="136"/>
<operator activated="true" class="split_data" compatibility="8.1.001" expanded="true" height="103" name="Split Data (4)" width="90" x="715" y="391">
<enumeration key="partitions">
<parameter key="ratio" value="0.8"/>
<parameter key="ratio" value="0.2"/>
</enumeration>
<parameter key="sampling_type" value="stratified sampling"/>
<parameter key="use_local_random_seed" value="true"/>
</operator>
<operator activated="true" automodel="EXPORTED" class="model_simulator:explain_predictions" compatibility="8.1.001" expanded="true" height="103" name="TPD Predictions" width="90" x="983" y="391">
<parameter key="maximal explaining attributes" value="10"/>
<parameter key="local sample size" value="5000"/>
</operator>
<operator activated="true" class="store" compatibility="8.1.001" expanded="true" height="68" name="Store" width="90" x="983" y="136">
<parameter key="repository_entry" value="Third Party Simulator"/>
</operator>
<operator activated="true" class="store" compatibility="8.1.001" expanded="true" height="68" name="Store (2)" width="90" x="1117" y="442">
<parameter key="repository_entry" value="Third Party Predictions"/>
</operator>
<connect from_op="Feature Weights" from_port="output" to_op="Select by Weights (2)" to_port="weights"/>
<connect from_op="Model" from_port="output" to_op="TPD Simulator" to_port="model"/>
<connect from_op="Data Set" from_port="output" to_op="Target" to_port="example set input"/>
<connect from_op="Target" from_port="example set output" to_op="Select by Weights (2)" to_port="example set input"/>
<connect from_op="Select by Weights (2)" from_port="example set output" to_op="Multiply (3)" to_port="input"/>
<connect from_op="Select by Weights (2)" from_port="weights" to_port="result 1"/>
<connect from_op="Multiply (3)" from_port="output 1" to_op="Split Data (3)" to_port="example set"/>
<connect from_op="Multiply (3)" from_port="output 2" to_op="Split Data (4)" to_port="example set"/>
<connect from_op="Split Data (3)" from_port="partition 1" to_op="TPD Simulator" to_port="training data"/>
<connect from_op="Split Data (3)" from_port="partition 2" to_op="TPD Simulator" to_port="test data"/>
<connect from_op="TPD Simulator" from_port="simulator output" to_op="Store" to_port="input"/>
<connect from_op="TPD Simulator" from_port="model output" to_op="TPD Predictions" to_port="model"/>
<connect from_op="Split Data (4)" from_port="partition 1" to_op="TPD Predictions" to_port="training data"/>
<connect from_op="Split Data (4)" from_port="partition 2" to_op="TPD Predictions" to_port="test data"/>
<connect from_op="TPD Predictions" from_port="visualization output" to_op="Store (2)" to_port="input"/>
<connect from_op="TPD Predictions" from_port="example set output" to_port="result 2"/>
<connect from_op="TPD Predictions" from_port="importances output" to_port="result 3"/>
<connect from_op="Store" from_port="through" to_port="result 4"/>
<connect from_op="Store (2)" from_port="through" to_port="result 5"/>
<portSpacing port="source_input 1" spacing="0"/>
<portSpacing port="sink_result 1" spacing="0"/>
<portSpacing port="sink_result 2" spacing="0"/>
<portSpacing port="sink_result 3" spacing="0"/>
<portSpacing port="sink_result 4" spacing="0"/>
<portSpacing port="sink_result 5" spacing="0"/>
<portSpacing port="sink_result 6" spacing="0"/>
<description align="center" color="green" colored="true" height="54" resized="false" width="112" x="170" y="178">Target Label Role</description>
<description align="center" color="green" colored="true" height="54" resized="false" width="112" x="170" y="480">Target Feature Weights</description>
<description align="center" color="green" colored="true" height="54" resized="false" width="112" x="168" y="107">Target Model</description>
</process>
</operator>
</process>
Tagged: