Help me to find out the right target role for the attributes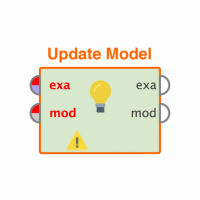 mrs_vendor
Member
Posts: 3
Contributor I
edited November 2018
in Help
How do I know, what kind of target role I have to use for the attributes?
I have a school project and I have to take a fraud detection.
I have to use the classification and the decision tree. With these tools, I want to get the characteristics of the customers, who are frauds. So I know the attribute "fraud" has the target role "label" and the "Kunden_ID" (="customer_ID") has the target role "id".
But I don´t know what target roles the other attributes have. If I choose for the other attributes the target role "regular", my decision tree will be flawed.
I would be very grateful if I could get help!
<?xml version="1.0" encoding="UTF-8"?><process version="8.1.001">
  <context>
    <input/>
    <output/>
    <macros/>
  </context>
  <operator activated="true" class="process" compatibility="8.1.001" expanded="true" name="Process">
    <process expanded="true">
      <operator activated="true" class="retrieve" compatibility="8.1.001" expanded="true" height="68" name="Retrieve Fraud Detetction Balanced_a2" width="90" x="45" y="34">
        <parameter key="repository_entry" value="//Local Repository/data/Fraud Detetction Balanced_a2"/>
      </operator>
      <operator activated="true" class="select_attributes" compatibility="8.1.001" expanded="true" height="82" name="Select Attributes" width="90" x="179" y="34">
        <parameter key="attributes" value="Alter|Betrugsfall|Forderungsbetrag|Kunden_ID|Polizeilicher_Bericht|Geschlecht|Anzahl_vergangener_Tage|Anzahl_Forderungen_seit_zwei_Jahren"/>
      </operator>
      <operator activated="true" class="set_role" compatibility="8.1.001" expanded="true" height="82" name="Set Role" width="90" x="313" y="34">
        <parameter key="attribute_name" value="Kunden_ID"/>
        <parameter key="target_role" value="id"/>
        <list key="set_additional_roles">
          <parameter key="Betrugsfall" value="label"/>
          <parameter key="Alter" value="regular"/>
          <parameter key="Geschlecht" value="regular"/>
          <parameter key="Anzahl_Forderungen_seit_zwei_Jahren" value="regular"/>
          <parameter key="Anzahl_vergangener_Tage" value="regular"/>
          <parameter key="Forderungs_ID" value="id"/>
          <parameter key="Forderungsbetrag" value="regular"/>
          <parameter key="Forderungskategorie" value="regular"/>
          <parameter key="Polizeilicher_Bericht" value="regular"/>
        </list>
      </operator>
      <operator activated="true" class="concurrency:parallel_decision_tree" compatibility="8.1.001" expanded="true" height="103" name="Decision Tree" width="90" x="447" y="34"/>
      <connect from_op="Retrieve Fraud Detetction Balanced_a2" from_port="output" to_op="Select Attributes" to_port="example set input"/>
      <connect from_op="Select Attributes" from_port="example set output" to_op="Set Role" to_port="example set input"/>
      <connect from_op="Set Role" from_port="example set output" to_op="Decision Tree" to_port="training set"/>
      <connect from_op="Decision Tree" from_port="model" to_port="result 1"/>
      <portSpacing port="source_input 1" spacing="0"/>
      <portSpacing port="sink_result 1" spacing="0"/>
      <portSpacing port="sink_result 2" spacing="0"/>
    </process>
  </operator>
</process>