In Rapidminer Sample 04 S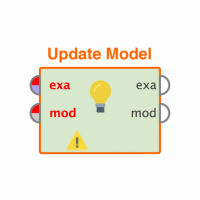 Rapidstudent
Member
Posts: 8
Newbie
edited April 2020
in Help
I trained this sample model and use store operator to store model. It is ok. 
After,
I delete the close column in 04 S&P500 original data as new data for prediction. I use retrieve to load model and use amended S&P500 data.
I am failed to run. What is the problem ?
In subprocess and Normalize, I amended to "all" in 'select attributes'. Is it wrong?
Please help. Anyone can make a process to let me know how to use another process to get prediction for new data.
I am a new rapidminer user. My concept of CNN and Rapidminer is not good. Please be patient.
My process file is attached.
Thank you
Tagged: